Recruitment Information
Firefighting is a challenging, yet also a highly rewarding endeavor. If you are motivated by the opportunity and believe you can meet the challenges, we encourage you to apply. If you have any further questions, please feel free to contact Stacey Bird, Human Resources Manager, via telephone (231) 947-3000 ext 1221 or email [email protected]
GTMESA part-time firefighters are essential members of the GTMESA emergency services team. Their dedication and commitment are integral to our ability to provide the very best service to those who need our help. In return, they receive career training and experience in Fire, EMS and other technical areas, hourly compensation, and the greatest benefit of all — the satisfaction derived from serving the community and helping those in need. Part-time employees receive limited benefits. We do not have volunteer firefighter or paid-on-call firefighter positions.
Part-Time firefighters:
Should live within reasonable driving range of the GTMESA's District (East Bay Township, Acme Township, Garfield Township, or City of Traverse)
Must meet the requirements stated in the job description.
Time Commitment
Full-time GTMESA firefighters work a 48/96 schedule where they work a 48-hour shift and then have the next 96-hours off duty. They work in shifts and are assigned to a group of firefighters that is led by a Captain and two Lieutenants (Red Shift, Green Shift, Blue Shift). Overtime shifts are often readily available.
Part-time GTMESA firefighters are able to work as regular 24-hour firefighters.  Part-time firefighters agree to work at least 24 hours a month.
To be considered for a GTMESA Firefighter position, you must:
Be at least 18 years of age
Possess a High School Diploma or equivalent
Have a clear driving record (0 – 4 points)
Successfully comply with our 

Fitness for Duty policy

; including physical ability test, drug screen and physical
Be able to take orders and follow directions
All Firefighters must be certified in the following areas (or obtain certification while employed):
Firefighter I & II Certification
Hazmat Operations
Emergency Medical Responder (Emergency Medical Technician – Basic (EMT-B) preferred)
Emergency Vehicle Operator Course (EVOC) Certification
Other certifications as deemed necessary for optional job duties
Applicants that do not meet the above qualifications may be considered for employment as Probationary Candidates (PC).
We do offer select PC the opportunity to attend Northwest Regional Fire Training Center (RTC) and be sponsored by GTMESA. For information regarding Firefighter I and Firefighter II Certification, please visit the RTC website. To be considered for sponsorship into the RTC programs, applicants must comply with all other pre-employment qualifications as stated here and commit to an employment agreement with GTMESA. If interested in becoming a PC and commit to obtaining Firefighter I and Firefighter II certification, please apply online for consideration. The candidate selection window is open March  through September of each calendar year for the fall Firefighter I and Firefighter II Certification. Medical licensure may also be obtained as a PC via similar circumstances.
Please apply online. No persons shall be considered for any type of employment without submitting an application.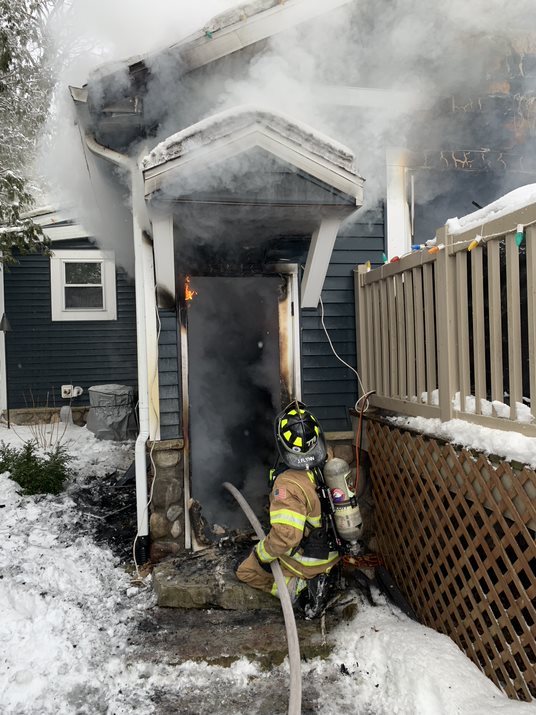 Medical Evaluation
The medical evaluation will be performed by the GTMESA's physician at the Munson Occupational Medicine. This evaluation will be in accordance with the National Fire Protection Association (NFPA) 1582: Standard on Comprehensive Occupational Medical Program for Fire Departments. At the same time as the evaluation, the GTMESA physician will determine if the member is medically fit to wear a respirator in accordance with the Respiratory Protection Plan. Pass/Fail results will be submitted to GTMESA and results from the comprehensive physical will be shared with GTMESA Wellness Coordinator. The exam may include and is not limited to:
Pre-employment drug screen
Lab work (i.e. Cholesterol, Triglycerides, etc.)
OSHA Respirator Medical Evaluation
Physical Exam
X-Ray (i.e. chest/back)
Pulmonary Function Testing
EKG
Our full-time employees enjoy a comprehensive benefit package for themselves and their families. Below is an overview of the benefits provided to our employees and their families:
Priority Health Medical Insurance (GTMESA pays 96% of the monthly premium for the employee and their family)
HSA deductible is fully funded by GTMESA (individual or family)
Dental Insurance (GTMESA pays 96% of the monthly premium for the employee and their family)
Vision Insurance (GTMESA pays 96% of the monthly premium for the employee and their family)
Life and AD&D Insurance (provided by GTMESA)
Voluntary Life Insurance
Long-Term Disability insurance (provided by GTMESA)
Short-Term Disability Insurance (provided by GTMESA)
Paid Vacation Leave
Paid Personal/Sick Time
13 Paid Holidays
Employee Assistance Program
GTMESA offers a 401(a) and 457 governmental retirement plan and contributes 10% of the employee's base pay.
Grand Traverse Metro Emergency Services Authority (GTMESA) has a full-time crew of approximately 24 members with varying levels of expertise. Each member brings with them a variety of skills and abilities, allowing us to provide excellent care for the citizens of East Bay, Acme, and Garfield Townships. One of the largest departments in Northern Michigan, we are proud of our heritage while managing to be forward focused. As we continue to grow, we strive to attract and retain the best talent available and regularly evaluate our programs to ensure we are a department that our members are proud to be a part of.  Click HERE for Job Description 
Successful completion of a National Firefighter Selection Inventory (NFSI) test for Full-Time Firefighters.
Selected applicants must successfully comply with our Fitness for Duty standard operating guideline. This includes but is not limited to:
Physical Ability Test (PAT)
A PAT shall be required by all operational GTMESA employees (full-time, part-time, and Probationary Candidate firefighters) to determine if the employee can perform critical essential firefighting functions. The PAT will take place pre-employment and at a predetermined location each year in the month of October. Exact dates and times shall be established by the Wellness Committee.
To learn more about the PAT, please watch the video here