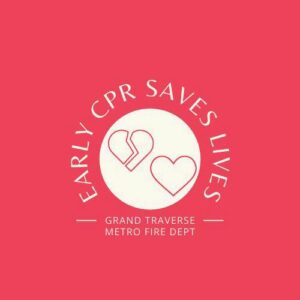 Did you know? Almost 70% of cardiac arrests occur at home and only 45% of cardiac arrest victims receive CPR from bystanders.
CPR – or Cardiopulmonary Resuscitation – is an emergency lifesaving procedure performed when the heart stops beating. Immediate CPR can double or triple chances of survival after cardiac arrest.
Grand Traverse Metro Fire offers the American Heart Association's Friends and Family CPR course free to the community once per month.
This is a classroom course intended for anyone who wants to learn CPR and prefers to learn in an Instructor-led or facilitated group environment. This course is for people who do not need a course completion card for a job or other requirements. Family & Friends CPR is ideal for community groups, parents, grandparents, caregivers, schools and students, and others interested in learning how to save a life.
Our Course Features…
Adult CPR / AED use
Child/Infant CPR / AED use
Adult, child and infant relief of choking
Where?
Grand Traverse Metro Fire Dept., Sta. 11, 3000 Albany St.
When?
 The 3rd Tuesday of each month from 6pm-8pm
How?
Please fill out the registration form at the bottom of the page to secure a spot in the next class
           Registration will open the day following the current month's class (3rd Wednesday)
Questions? 
Please call 231-947-3000, ext. 1234